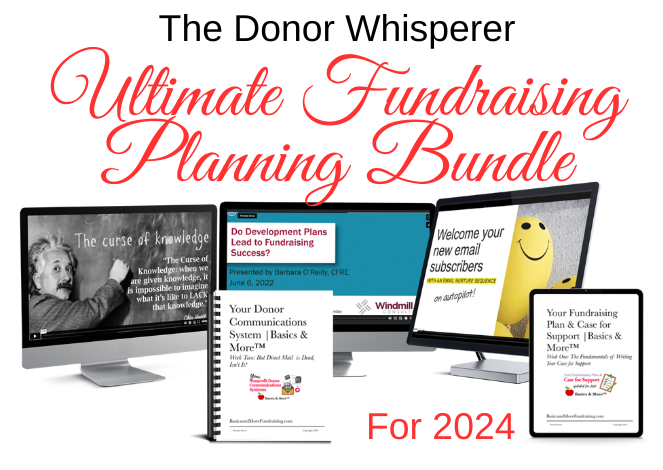 Are you looking to build a bigger and better fundraising program at your nonprofit?
Do you wish you had a clear plan for the tactics — and the data smarts — you need to raise more money and thrive?
Have you been charged with raising even MORE money — and given even fewer resources — during these chaotic times?
Would you like to have a compelling case for support that explains your mission to donors in a way that makes them want to give?
Or maybe you're NOT quite sure how to implement your fundraising plan…
If the answer to any of these questions is "yes," then the Donor Whisperer Bundle is for you.
Why Are Your Fundraising Plan and Case for Support So Important?
Your fundraising plan and your case statement are two of the most important items you'll ever create for your organization. Your fundraising plan maps out your development strategy for the next one, two, three or more years… and sets the direction your development program will take as you raise the money you need to thrive.
Your Case for Support (AKA case statement) paints an emotionally compelling picture for your supporters. Your nonprofit should rely on your case statement as
the basis for all of your fundraising communications — from grant applications to email asks to your web copy to your direct mail — using language and messaging drawn straight from the case to convince your donors to give more money, more often, to support your mission.
The two work hand in hand, providing you with the oftentimes missing fundamentals behind a robust fundraising program.
Your Fundraising Plan & Case for Support has given thousands of students the tools to write their fundraising plans, focus on what matters, and raise millions more for their nonprofits.
Here's what you get when you enroll now in The Donor Whisperer Bundle:
You'll gain immediate access to Your Fundraising Plan & Case for Support…
You'll also be automatically be registered for our new live webinar (scheduled for January), Your 2024 Donor Communications Calendar: Getting it all done. Even when you're strapped for time and resources (a $129 value).
Plus, in January, you'll be enrolled in our best-selling class, Your 2024 Donor Communications Calendar, which will give you the tools and templates to actually implement the plan you just wrote.

$279
Save $100! $179
The Donor Whisperer Bundle includes three of the most important trainings for starting 2024 off on the right foot:
Your Fundraising Plan & Case for Support, where you'll write you fundraising plan and your organization's case for support (priced at $179)
Your 2024 Donor Communications Calendar, where you'll develop a realistic system of communicating with your donors and implementing your plan (priced at $179)
PLUS our all-new live webinar Your 2024 Donor Communications Calendar: Getting it all done. Even when you're strapped for time and resources, giving you the tools, including AI, to make consistent donor communications realistic for even the smallest nonprofit (priced at $129)
That's a total Value of $487
And it's on sale now until December 8 for only $179
How it works:
Immediately upon registering; you gain access to Your Fundraising Plan & Case for Support so you can get started now. To be followed by Your 2024 Donor Communications Calendar (starting Jan 8)
Bring your questions and examples when we gather for our live webinar on Thursday, Jan 11 at 2 EST. Read on to see what's included in Your Fundraising Plan & Case for Support.
---
Module One: The Fundamentals of Writing Your Case for Support
Know why and when your nonprofit needs a case statement
Find out what's missing in most case statements, and where you need to start
Learn what questions need to ask and who you need to talk to when preparing to write your case for support
Module Two: Writing a Compelling Case for Support
Understand how to tell your organization's story quickly and effectively
Use the included checklist to see what materials you need to have on hand to write a great case
Learn a simple procedure for the case writing process
Week #2 Bonus: You'll receive a complete sample case for support that you can use as a template for your organization
Module Three: The Fundamentals of Writing a Strong Fundraising Plan
Know why your nonprofit needs a written fundraising plan
Understand what goes in to a successful fundraising plan and how to get your board and staff committed to the process
Learn a simple, step-by-step process for writing a plan that works
Week #3 Bonus: Students will receive the premium recorded webinar, How to Create a Development Plan so You Can Raise More Money, featuring Amy Eisenstein, ACFRE, author of 50 Asks in 50 Weeks.
Module Four: Making Your Fundraising Plan Successful
This week, you'll receive a recorded webinar How to Write a Successful Fundraising Plan.
Week #4 Bonus: You'll also receive a complete sample fundraising plan that you can use as a template for your own organization's plan.
Writing a strong fundraising plan and an amazing case for support may be the two most important things you can do to get your nonprofit on the right track.  This class makes it easy to learn how.

$279
Save $100! $179
Your Guide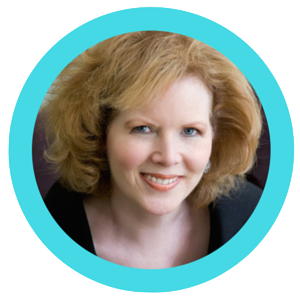 Your Fundraising Plan & Case for Support | Basics & More™ is being presented by Pamela Grow.
Pamela Grow is the founder of Basics & More™ Fundraising, providing comprehensive training to over 5,000 nonprofit organizations worldwide. She is also the author of Simple Development Systems: Successful Fundraising for the One-Person Shop, considered by many to be the bible of small shop fundraising. 
A pioneer in creating online training for nonprofit professionals, Pamela developed the first online nonprofit storytelling class in 2010, as well as the first online nonprofit stewardship training. Partnering with Chris Davenport of the Nonprofit Storytelling Conference, she created the landmark program, 100 Donors in 90 Days, and The Donor Retention Project. In 2016, Pam developed the curriculum, branding, systems, and launch for the Veritus Group's Major Gift Academy, the preeminent online training for nonprofit major gift officers.
In 2010 Pamela was named one of the 50 Most Influential Fundraisers by UK's Civil Society magazine, and she was recently named one of the Top 25 Fundraising Experts by the Michael Chatman Giving Show. She's been featured by the Chronicle of Philanthropy, the Foundation Center and Small Shop Savior, a weekly column of NonprofitPRO Magazine. 
FAQ
Who is this class for?
Your Fundraising Plan & Case for Support | Basics & More is for both those new to writing development plans and case statements as well as seasoned development pros who want to know how to strengthen what they already have in place.  Nonprofit founders, Executive Directors, Development Directors, fundraising staff, board members and volunteers will all benefit from this four week class.
Learn When You Want and Where You Want
One of the best things about this class is that you can read the guides and listen to the podcasts/webinars from the comfort of your own home, office or car.  Instead of having to take time off to go to a full day seminar, you can learn everything you need to know about creating your organization's development plan and case for support — right where you are.
And – you have lifetime access to the class materials!  So even if you can't go through all of the class materials right now, you can read and listen at your leisure.  There are no tests or quizzes, only solid information that you can review whenever you are ready, with lifetime access to the course pages.