What does your fundraising in 2018 look like?
More importantly, how will you get there?
Picture this. What if you had everything you needed to take your fundraising to soaring new heights…right at your fingertips, and all in one place?
What if you had a system that covered all the bases, with all the tools your nonprofit needs to fundraise big in 2018…and far beyond?
And what if you could get your whole nonprofit on board, focused on the right things and achieving the best possible results, for one low price?
What if you could have it all at the lowest price EVER?
2018 is here, and The Basics & More All Access Ticket is back and better than ever. What does it give you?
20+ classes that outline a roadmap providing every chance for YOUR fundraising success

More tips, tools, downloadables, and bonuses than you can imagine

Constant support from yours truly, along with top fundraising leaders

The chance to connect with other fundraising pros to share ideas and talk about how to go forth and make fundraising magic happen
Much, much more!

Our schedule of Basics & More™ classes for 2018 include the basics you've come to know and rely on, such as Your Fundraising Plan & Case for Support, creating your donor communications  plan, Board Fundraising, Revenue Generating Nonprofit Newsletters, monthly giving, The Power of Thank You, Planned Giving, Online Fundraising, and more.
And in 2018, we'll be providing comprehensive training in Microsoft mail merge and forms, allowing you to better customize your donor communications. No one else offers this. Also included will be a class in how to develop your strategic plan — and implement it, our new Donor Surveying class, and a brand new class on mid-level donors.
Are you looking for a donor database — or thinking about switching CRMs? You'll want to join us for our spring webinar series on making the right selection for you.
Right now, you can have access to all of this for the low price of $749.99.
If you bought each of these classes at Early Bird pricing (and some nonprofits do!), it would run you over $1800! At regular pricing, nearly $2300! You're getting all the tools you need, along with lifetime access and up to seven additional spots per class, for a fraction of the actual value!
Are you ready to take the plunge?
Over 5,000 Smart Nonprofits Have Gotten Smarter With Basics & More™. Here Are Just a Few


Download the 2018 Course Roster
January
Your Fundraising Plan and Case for Support
Your plan and your case statement are two of the most important items you will ever create for your organization. Use this class to develop your 2018 fundraising plan and a case statement that produces exceptional results for your nonprofit.
Four weeks.
Your Donor Engagement System
Still burned out from year-end fundraising? Learn the secrets behind communicating better – and more often – and you'll raise more throughout the year. Your Donor Engagement System will guide you through creating a 12 to 24 point donor touch plan guaranteed to keep your supporters engaged and giving throughout 2018.
Four weeks.
February
Board Fundraising
Do your board members say they'll do anything but fundraise? How can you reasonably expect foundations to fund you when members of your board won't donate? Use this course to create a passionate, engaged board that's eager to share your mission. With Sandy Rees.
Four weeks.
Revenue Generating Nonprofit Newsletters
Learn the ins and outs of creating your fail-safe system to donor-focused, revenue generating print and email newsletters.
Four weeks.
March
Start and Grow Your Organization's Monthly Giving Program
Monthly giving is the holy grail of fundraising. Learn how to create and grow your organization's monthly giving program. Includes extensive examples of direct mail and email monthly giving appeals and three premium recorded trainings from Erica Waasdorp.
Four weeks.
Your Spring Direct Mail Appeal
Your spring fundraising direct mail appeal, from start to finish.
Four weeks.
April
The Power of Thank You
This newly revised course will infuse your organization with a culture of gratitude, donor love, and the creation of the stewardship and feedback systems guaranteed to power donor retention.
Four weeks.
Donor Acquisition 101
How will you be bringing new donors into your pipeline? In Donor Acquisition 101 you'll learn how to effortlessly create the systems to bring new donors on board, from turning your event attendees into donors, to networking and speaking opportunities, to using the power of your website and social media, and more.
Three weeks
"I began Pamela Grow's
Basics and More
year-long class last year when I suddenly was offered the position of Development director at our organization.Feeling somewhat unprepared for running a department (with zero staff) for a very large agency I started looking for a program that would give me a great base (and beyond) for the tasks ahead of me.
And when I found the "Basics and More" Ticket, I knew I had found exactly what I was looking for. I already knew Pam's reputation and had been following her blog and emails for quite some time, so I knew she knew her stuff!
Starting the very first month Pamela laid out, in very easy chunks, all of the steps I needed to develop and write my first Case for Support. Not only did she give me the steps but she gave me real time input that was invaluable.
Here I am a year and a half later, and our organization has had its most successful fundraising year ever!!
I would highly recommend this course to anyone in fundraising, from development directors to executive directors to associates!"Laurie Schaefer, Director of Donor Engagement & Special Events, ACDS
May
Planned Giving
Everything you need to create and market your organization's planned giving program. Includes recorded trainings from Tom Ahern and Leah Eustace, ACFRE as well as an extensive collection of examples of direct mail bequest marketing from nonprofit organizations just like yours.
Four weeks.
Hiring Your First Development Director
How do you ensure that your first fundraising hire stays the course to grow long term donor relationships. In Hiring Your First Development Director, we'll give you the tools to hire the best fit for your organization.
Three weeks.
June
Getting Started With Major Gift Fundraising
Featuring trainings from Amy Eisenstein, Jeff Schreifels, Gail Perry, and Rory Green, this course will provide you with the structure you need to begin your organization's major gift program.
Four weeks.
Fundraising With Businesses
I team up with Linda Lysakowski to navigate the ins and outs of relationships between your nonprofit and businesses. You'll learn which sponsorships are worth pursuing, as well as how to initiate and sustain them.
Four weeks.
July
Raise More Money With Donor Surveys
Donor surveying will help you uncover your best planned, major, and even monthly giving prospects. And if you're planning a capital campaign any time soon, you should start with a survey.
In the newest course in our roster, Raise More Money With Donor Surveys | Basics & More™, you'll discover how to raise more money by actively listening to your donors.
Four weeks.
Nonprofit Storytelling
Is your organization sharing the right kinds of stories, and telling them in the most emotionally compelling way possible? Here, I'll cover all of the bases so that by the end, your stories have the power to inspire donors to give.
Four weeks.
August
Your Annual Gratitude Report
Everything you need to create an annual report your donors will want to read, from start to finish, including timeframe, writing, printing and more. Specifically tailored to the needs of smaller budgets.
Four weeks.
September
Smarter Event Fundraising
Finally. A step-by-step system for fail safe event fundraising your donors will love! Includes training on turning ticket buyers into donors.
Four weeks.
Supercharge Your Year-End Fundraising
Your organization could be raising 70% of donations within the last eight weeks of the year. Regardless of where you are, this course will enable you to maximize your potential.
Four weeks.
October
Year End Direct Mail Appeal
Start now to create your organization's best year-end direct mail appeal…and raise more than ever before!
Four weeks.
Online Fundraising
Online fundraising consists more of slapping a donate button on your website and crossing your fingers. Online Fundraising | Basics & More™ teaches you the strategies of list-building, writing for the web, creating your 3-5 series email campaign series, developing a donor-focused donation process and more.
Four weeks.
November
Foundation Grants Funding
Created for smaller nonprofits without a dedicated grantwriter, Foundation Funding provides the basics of developing your organization's portfolio of general operating support grant funders.
Four weeks.
Creating Your Mid-Level Donor Program
With Maeve Strathy.
December
Your Strategic Plan
Are strategic plans passé? Yes…and no. We're all acquainted with the strategic plan created five years ago…and never implemented. Your Strategic Plan will guide you through the processes of creating your strategic plan (with or without an outside consultant) and, most importantly, implementation.
Four weeks.
Microsoft Word – Mail Merge & Forms
Are you sending out a one-size-fits all letter…because you don't have the resources for a mail house and you can't figure out the latest version of Word? Join us for this three-week intensive where you'll learn how to take nearly any document and merge them with Excel, csv, txt, or any database to create custom letters, labels, cards (any size/shape), postcards, envelopes and directories. You'll also discover how to create fill-able forms.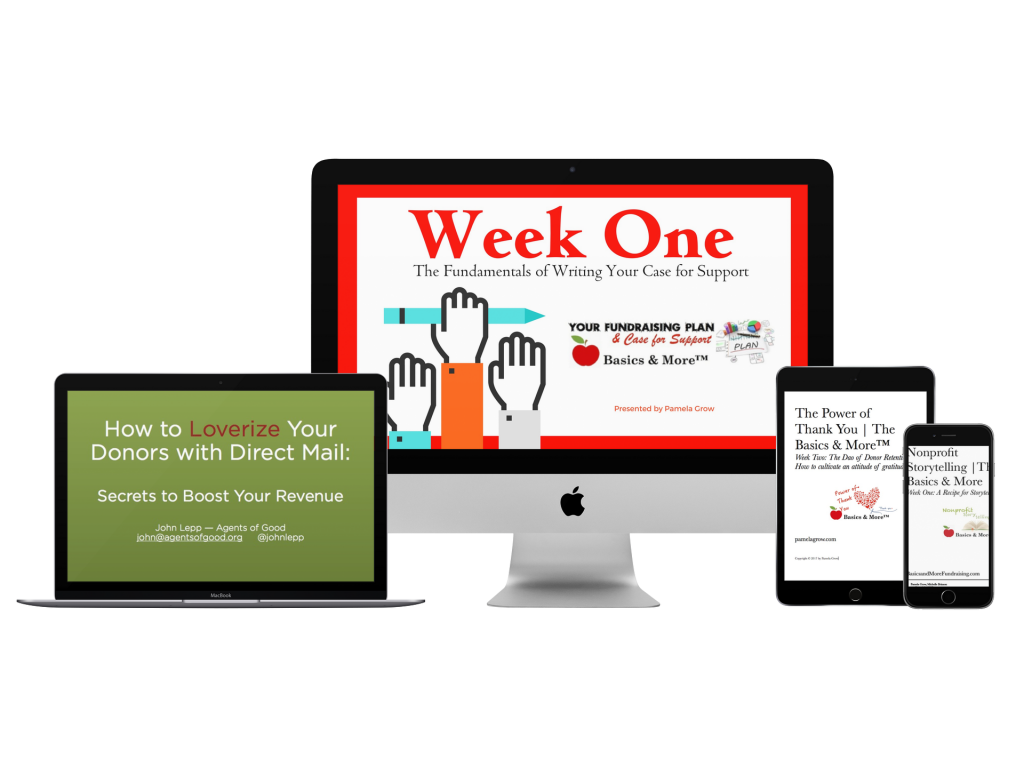 This course is taught by Pamela Grow.
About Pamela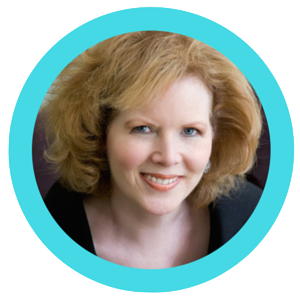 Pamela Grow is the founder of Basics & More™ Fundraising, providing comprehensive training to over 5,000 nonprofit organizations worldwide. She is also the author of Simple Development Systems: Successful Fundraising for the One-Person Shop, considered by many to be the bible of small shop fundraising. 
A pioneer in creating online trainings for nonprofit professionals, Pamela created the first online nonprofit storytelling class in 2010, as well as the first online nonprofit stewardship training.  Partnering with Chris Davenport of the Nonprofit Storytelling Conference, she created the landmark program, 100 Donors in 90 Days, and The Donor Retention Project. In 2016, Pam developed the curriculum, branding, and launch for the Veritus Group's Major Gift Academy, the seminal online training for nonprofit major gift officers
In 2010 Pamela was named one of the 50 Most Influential Fundraisers by UK's Civil Society magazine, and she was recently named one of the Top 25 Fundraising Experts by the Michael Chatman Giving Show. She's been featured by the Chronicle of Philanthropy, the Foundation Center and Small Shop Savior, a weekly column of NonprofitPRO Magazine. 
Q. How does this online course work?
A. Every Monday, you'll receive an email with a link to a password protected page containing that week's recorded webinar and downloadable resources. Written guides are 10–15 pages in length and can be printed or read directly on your computer or pad. You do not need to be present for any live webinar trainings.  
Q. It's the holiday season. We're working on our year-end campaign and will be off during the third week of class. How does it work if I miss a module?
A. No worries. Basics & More™ courses were designed with your busy schedule and personal freedom in mind! You're welcome to proceed at your own pace — and you're granted lifetime access to the materials upon registration. Loads of tools, tips, and insider secrets will be coming at you in droves, and you may not be ready to implement it all at once. And that's perfectly fine. Learn how one Basics & More™ student applied the lessons – months after the class. 
Q. Can I share the course with my development associate?
A. Yes, you can. The structure of this course, as well as the majority of the other offerings on my roster, are designed to bring your entire team on board — working, learning, and implementing together. Creating a culture of philanthropy means empowering your board members, staff, and volunteers about the most effective ways to fundraise. In keeping with my philosophies, your purchase price includes up to eight additional registrants. Promptly after your registration is processed, you'll receive a Welcome email with instructions on adding team additions. If you don't, please contact my assistant.
Q. Is there any personal support during this class?
A. Absolutely. Throughout the duration of this course, you'll have direct email access to me.  Email me your questions, bounce ideas off me, and talk about how to implement the strategies at your own organization. Additionally, you'll gain access to a private Facebook group created specifically for this course. From start to finish, I'm committed to helping you succeed!
Q. Is the Basics & More All Access Ticket guaranteed?
A. The Basics & More™ classes are 100% unconditionally guaranteed. However, due to the steep savings, we do not offer refunds on the Basics & More™ All Access Ticket.
Q. How do I register for this class?
A. Use the registration button.
Q. I'm a consultant and I think this program would be good for a few of my clients. Do you have a referral program?
A. We do. We offer a 30% affiliate payment for every registration. Sign up here for the Basics & More affiliate program. You might also consider enrolling yourself and using the teachings in creating your clients' year-end fundraising programs.